Admissions

Please feel free to contact us to inquire about our programs and any other details about our school. We are always happy to speak to interested parents. We ask that you read our website very closely and be particularly mindful of our requirements for a commitment to the full Montessori experience (through Kindergarten) and the full-day (until 3:00 pm) requirement for children over 4.5 years old. If you are comfortable with the philosophy and policies, we encourage you to submit an application. Tuition details can be found by following the link at the bottom of the page.

The Application Process for the 2022-2023 School Year

Parents are welcome to submit an application for the 2022-2023 school year. Because we are in person for all of our classes during COVID times, we are currently unable to have visitors on campus. We have created alternative ways for you to see the campus, but please reach out for questions! We are hopeful that by November, we may be able to conduct family visits as part of the application process or tour accepted families. You are strongly encouraged to sign up for our virtual group tours and virtual information session. This is your best way to see our school and ask questions.

You may also submit the application below for the 2021-2022 school year. Any applications submitted will go on our waitlist and we will contact you if we have an opening.


Attend an Information Session.
We look forward to showing you our school and answering any questions you have. During the Information Session, you will have the opportunity to meet teachers, visit the classrooms virtually, and have an introduction to the Montessori method. Attending an Information Session is a critical part of the admissions process and we ask that you plan to attend the entire session. We understand it is not always possible, but we love to see both or all parents/guardians at these events. Please choose from the two dates listed below and please note that while we love children, these events are typically for adults only. If we are still virtual and you are participating from home, your children are, of course, welcome to be around, but the evening will be geared towards adults. Please contact Bea at admissions@centennialmontessori.org if you have questions or scroll down to register.

Attend a Virtual Group Tour.
We understand that choosing the right school for your child and family is a big decision! Attending a group tour gives you a sense of the class in action and gives you a chance to experience the atmosphere of the school with the children at work and play. These opportunities fill up quickly, so please plan to register as soon as possible. Please register by choosing a date below. Dates disappear as they fill, so if there are no dates, please make sure to attend the information session. Please click here or scroll down to see the calendar below.
Submit an application by January 15, 2022.
We look closely at the application to understand what you are looking for in a school. Please use the application to help us get to know you, your child, and your philosophy. This is our primary way to get to know you! Please note that given this strange admissions season, we will rely particularly heavily on the application. Please help us get to know you, your interest in our school, and your child. Thank you! There is a non-refundable fee per application of $150.
Submit supporting documents.
If your child has been in school previously, we also require an evaluation to be filled out by your child's teacher. For children over 5 years old, we require a records release be signed so that we may request school records from your child's current school. These forms can be found below or linked on the application.
Parent and Child Visits
We receive our re-enrollments and sibling enrollments in the beginning of February. At this point we will know how many spaces we have in the Elementary, Children's House and the Young Children's Community and we may (COVID precautions allowing) invite some families back for a parent visit and/or child visit. If accepted, we will be working together on behalf of your child for many years, so we do ask that both/all parents/guardians attend the family visit. We know this can be challenging and will work with you to find a date that works.

These visits vary greatly depending on your child's age and developmental level and are scheduled based on availability in the visit schedule. Our aim is to get to see your child in Montessori setting and get to know your family better, but to do so in a way that is comfortable for your child. Due to the large number of applicants, we are not able to accommodate visits for every family which is one reason why the group tours, the application, and open house attendance is so critical. We only conduct visits if we feel there is a strong likelihood of having a space in the program your child is applying for.

If we cannot invite you for an in person visit, we may follow up with a virtual parent interview.
Decision Letters
In order to make sure you have our decision letter at the same time as other schools you may be applying to, we follow the Bay Area Guidelines for Admissions. Decisions are mailed between March 8th and March 15th and are typically due back on March 22nd. Decision letters for siblings of currently enrolled students will be sent out with your re-enrollment packets in January and are due back February 15.

In keeping with the Bay Area Admissions Best Practices, no member of the Centennial Montessori community will contact you during the week following the decision letters. We understand this is an important time for your family to reflect. Accepted children who are eligible (based on age and toilet independence) are welcome to attend our summer program in the summer of 2022.

Please note that unless your child is continuing on to our Elementary or transferring from an AMI Montessori School, we rarely accept children into the third year of our Children's House (Kindergarten).




Lower School: Young Children's Community & Children's House Information Sessions

Thursday, December 2, 2021, 6:00 pm - 7:00 pm
Saturday, January 8, 2022, 1:00 - 2:30 pm
Please register by clicking the line below, so that we know how many parents to expect.
Click here to register for the Lower School Parent Information Session


Upper School: Elementary Community Information Session

Thuraday, December 2, 2021, 7:30 - 8:30 pm
Saturday, January 8, 2022, 3:00 - 4:00 pm
Please register by clicking the line below, so that we know how many parents to expect.
Click here to register for the Elementary Parent Information Session



Small Group Tour


Please note that although we love to meet the children, our group tours are oriented for adults. Our tours fill up early. Please register above as soon as possible to secure a space. If the tours are full, the Information Day and Nights are a great option for learning more about the school. We recommend attending whether you have gone on a group tour or not.



TUITION SCHEDULE

Note that the tuition typically increases between 3 and 8% each year (generally closer to the lower end). Please click the image below to see our 2021-2022 tuition fees, 2022-2023 fees will be posted as soon as they are updated, typically in November.

APPLICATION

Our application deadline for 2021-2021 is January 15, 2022. Any available openings for 2021-2022 will usually be filled from our waitlist determined by the applications submitted by January 15, 2021. However, we do give priority to siblings, AMI Montessori transfer students, and families continuing on to the Elementary program. You are welcome to use the application below to apply for any space that opens in 2021-2022.

Please select image below to begin the application. Please make sure to complete application by following the paypal link to submit the application fee. Due to the volume of applications received, incomplete applications will be deleted. If you prefer to pay the fee by check, please reach out to us at admissions@centennialmontessori.org and let us know. Thanks!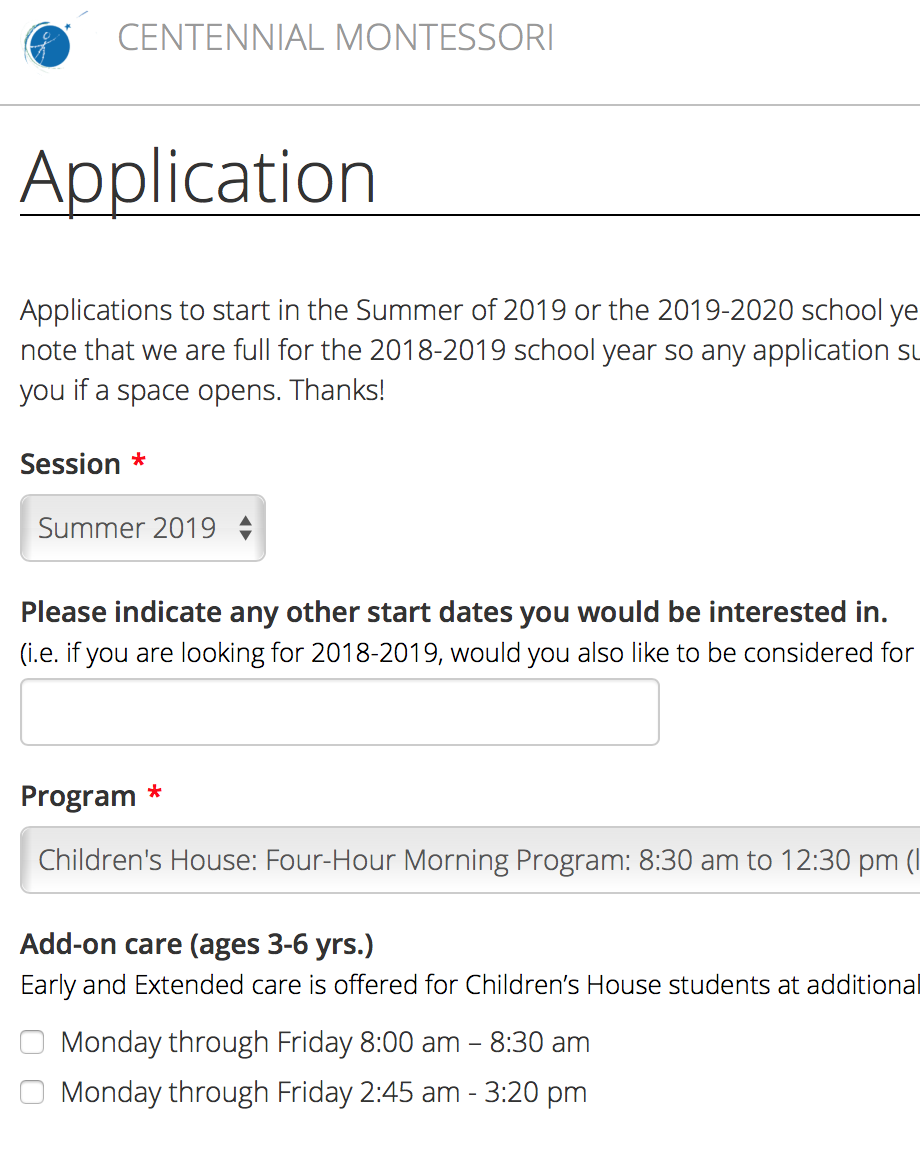 ADDIONAL REQUIREMENTS FOR APPLYING TO ELEMENTARY OR THE THIRD YEAR OF CHILDREN'S HOUSE

Teacher recommendations are not required for YCC or young CH students. If you are applying to the Elementary or the third year of the Children's House, we require transcripts from their current school (or conference reports for younger children) and a teacher recommendation from your child's current teacher. If your child was not in person this year, we also request a recommendation from your child previous teacher. Other recommendations are welcome if it helps us get to know them better! Please click below for the forms.

FINANCIAL AID

If you would like to apply for financial aid, please click the FAST/ISM logo below.

BROCHURE